At The Village Shops Gatlinburg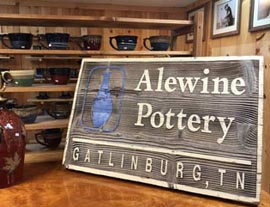 Perhaps nothing is more symbolic of the charm and warmth of the Great Smoky Mountains than a handmade piece of art. A stop in at Alewine Pottery in The Village Shops will wrap you in the cozy feel of a potter's studio as you find yourself surrounded by clay creations that are the product of decades of hard work by Robert Alewine. He's honed his skills for many years, resulting in beautiful pieces that capture the heart and warm any décor. A wall of mugs adorned with leaves reminds the visitor that they are in one of the most magical places of the natural world, the Great Smoky Mountains. It's the one place in this world where it's always the right time to relax and pour a cup of coffee or tea!
Once you've decided to step out of the village crowds and into this peaceful, beautiful shop, the staff would encourage you to take all the time you need to browse the stunning pottery bowls and other receptacles bearing a bold leaf pattern in a style that sets Alewine pottery apart, as well as the truly unique designs, such as a vase bearing an intricate design of a log cabin surrounded by evergreens. The eye is drawn to the layering of warm, rich color and masterful glazing patterns. Each piece of pottery is simply stunning and very affordable, considering the quality offered.
Robert Alewine, the master potter for the store, has trained many others, some of whose work has appeared in the store, along his journey to excellence. He came to Gatlinburg in 1983, with his wife and two daughters in tow, and has never regretted his longstanding "mountaintop" experience here! His work has garnered much acclaim and he's made many friends here along the way.
Gatlinburg welcomes artists of every stripe, and the beauty and biodiversity of the environs is the perfect muse, as you're sure to find when you spend your days exploring these hills during your stay at Mountain House Motor Inn. Alewine Pottery is a true treasure in the heart of the Village and walking distance from your room!
Alewine Pottery Online!
Register to receive their newsletter & save 10% on your first order.
Three Alewine Pottery Store Locations:
Arts & Crafts Community | The Village Shops | Pigeon Forge Island