Gatlinburg Village Gallery
The heart of The Village beats with the joys of some of the most amazing and inspirational art the region has to offer at Master's Editions Gatlinburg Gallery. Originally a Thomas Kinkade gallery, this special place is moving to an emphasis on the works of wildlife artist Abraham Hunter and soul-stirring images painted by Texan Mark Keathley.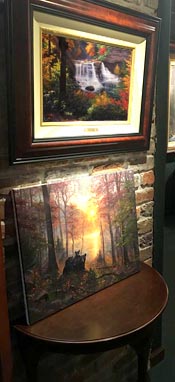 This two-story gallery offers well over 100 works prominently displayed with room for customers to browse comfortably. There are art experts on hand to answer any questions you may have about the amazing works for sale there. While many are Giclee on canvas (a reproduction process widely known to result in superior color results and a product that is both astonishingly true to the original and very long-lasting), the gallery has plans to keep some originals on hand at all times. Much of the artwork is beautifully framed and ready to hang in your Gatlinburg-area lodge, your office or in your family home. The gallery features many pieces that echo the beauty and simplicity of life in the mountains or countryside, meaning they'll remind you of your wonderful time in the Smokies every time you see them.
Abraham Hunter, one of the two premier artists to be featured in the gallery long-term, is a talented 22-year-old who has captured the attention of art and nature lovers everywhere. He has a unique grasp on the soul of the great outdoors, especially the synergy between the landscape and the beautiful animals that inhabit it. Whether an elk by full moon or a black bear among fall leaves, his poignant and realistic images make their mark in the heart.
Texan Mark Keathley blends a rugged individualism with artistic skill that lands him among the best-of-the-best in his niche. His work also brings together the land with the animal life that is sustained by it. Keathley infuses many of his paintings with the spirit of humanity in various walks of life, from the rancher on the range to Native Americans on painted horses.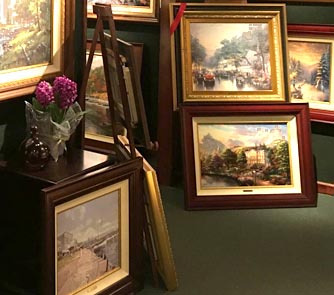 Master's Editions Village Gallery has plans to keep an ongoing inventory of other artists such as Texan Rod Chase and Atlanta's Robert Finale. Even if you are not in the market for a new piece of art, stop in and enjoy the beauty of the pieces at Master's Editions Village Gallery. At the least, you'll leave relaxed and happy. At the most, you'll be taking a home a treasure. Be sure to tell other guests at Mountain House Motor Inn about this wonderful gallery once you've had a chance to see it for yourself.
Masters Editions Gatlinburg Gallery
634 Parkway, The Village Shops
Gatlinburg  |  (800) 682-0547