Shamrocks, Crosses, Claddagh and Kilts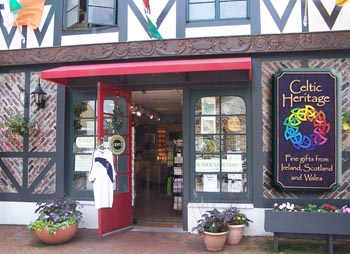 It's a regular Celtic hooley just across the way from Mountain House Motor Inn at the deadly Celtic Heritage Shop in the Village.  There's Irish, Scottish and Welsh music, gifts, jewelry, apparel, food and novelties.
Stop in to have a squizz or bant with the owners, Amy and Jeff, and enjoy Celtic Thunder, the Best Irish Pub Songs, Riverdance, or Celtic Women playing in the background.  The music is the perfect touch to shopping and a great way to sample the tunes before purchasing your own CDs.
Whether or not you have Celtic ancestry, you'll enjoy browsing the aisles of Celtic Heritage filled with customs, culture and art.  There is traditional Scottish Tartan scarves, kilts, socks and flashes; Irish wool sweaters; and cute and 'clannish' t-shirts.  Accessorize any outfit with fragrances imported from Ireland and Scotland, flat caps and tweeds.
The jewelry selection is rapid!  Unless you've made up your mind beforehand, you'll have a hard time choosing just one piece of jewelry from the display case.  Will it be silver, gold or pewter?  Earrings, pendant or necklace?  Shamrock, Celtic Cross, Claddagh, or Celtic Tree of Life?
To top it all off, Celtic Heritage has a number of novelty items featuring family names and coat-of-arms including key rings, badges, magnets, spoons, coasters, beer mugs, shot glasses and more.  No matter your shopping budget, you'll be able to leave this shop with something you'll love.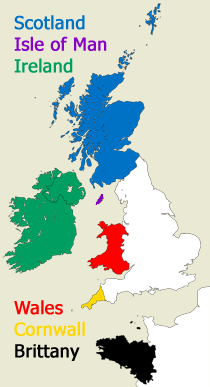 Before you go, we thought you might like to brush up on your language skills.  Ever wonder how to pronounce Celtic?  Celtic pronounced as "Seltic" is the original, traditional pronunciation of the word in English, used to describe inhabitants of Brittany, Ireland, Scotland, Wales, Isle of Man and Cornwall.  Celtic pronounced as "Keltic" is an evolved, yet acceptable pronunciation.  However, "Seltic" is always used in reference to sports teams.
Irish Terminology
Hooley:

party, celebration

Deadly:

  very cool

Squizz:

look-see

Bant:

  short banter, chat

Flat Cap:

  hat

Rapid:

amazing
The owners live and breathe Celtic traditions and look forward to welcoming you into the shop.  Be sure to tell them that Mountain House sent you!
Celtic Heritage
The Village Shops #26 – Print Celtic Heritage Coupons
(800) 391-6136