A Heavenly Taste of Sweet Treats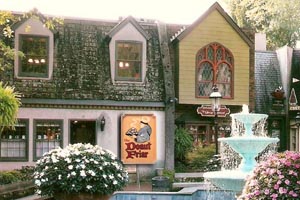 The weather in East Tennessee is often considered mild, and mild weather provides a unique opportunity to visit Gatlinburg at 5 a.m. and have a fresh cup of coffee in The Village.  The smell of made to order coffee, espresso, lattes and cappuccino will draw you into the quaint shop aptly named The Donut Friar. The lure of donuts on a fresh, mountain morning will convince you to pull up a chair; either at one of the tables tucked inside The Donut Friar or just outside near The Village fountain.
Some might say The Donut Friar is known for the fresh Cinnamon bread.  However, if you've found yourself at The Donut Friar for donuts, options include but aren't limited to powdered, coconut, chocolate frosted, sprinkled, and cinnamon. If those options aren't enough to convince you to visit, perhaps an éclair or jelly-filled donuts just might be enough.  If you still just aren't intrigued by the idea of a delicious, fresh baked donut from a locally owned favorite, The Donut Friar can still cure that sweet tooth with a fresh cookie, baklava or other seasonal pastry.
Throwback to a Better Time for Donuts
When I bit into the cream filled, powdered donut…my comment was "THIS is what a donut is supposed to taste like!". I'm 31 and my 60 year old mom responded, "That is EXACTLY what I told your dad when we came here last time! And donuts used to taste like this when I was a kid!" So there you have it. The cake donuts are very good, the glazed are very good, the white cream pillow (kind of like a cream horn, but shaped differently…and the cream, OMG, the cream). When looking through the poor reviews, I can't help but think these customers went in later in day. We got there at 9am and they had everything except cinnamon rolls. We also tried the Cinnamon Bread that everyone raves about, but I'm definitely going to be going back for the Cream Filled Powdered Donut!!!  EVERY TIME I AM IN THE AREA. Too good to pass up.  S.P. ~ As posted on TripAdvisor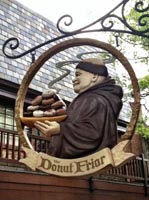 Even the locals agree that The Donut Friar is an 'absolute must' place to visit. If you're not staying at Mountain House Inn that is just a stroll from The Village, free parking is available along the Parkway before 9 a.m.  Find your way to Gatlinburg early in the morning before the traffic flows and the streets fill to make some sweet mountain memories with the taste of fresh baked pastries.
The Donut Friar
The Village Shops #15, Downtown Gatlinburg
(865) 453-7306
For a sneak peek into The Donut Friar, visit these websites:
http://www.thevillageshops.com/donutfriar.html