Ole Smoky Candy Kitchen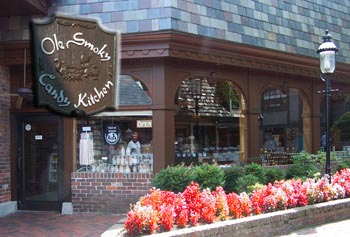 Right next door to Pancake Pantry and the entrance of The Village Shops is one of the sweetest spots in Gatlinburg. This home of the original Smoky Mountain Saltwater Taffy Logs makes tasty treats 7 days a week that can cure even the pickiest sweet tooth.
Ole Smoky Candy Kitchen was founded in 1950 and has been a Gatlinburg favorite ever since.  You'll still find candy makers wearing white uniforms, stirring big copper kettles of sugary goodness, and stretching salt water taffy just like they always have.  And, you can still purchase your handmade candies by the piece or by the box.
Unless you already have the sweet you want in mind when you enter the candy store, you may have a hard time deciding just what to try!  Here are just a few of the items you'll find:
Salt Water Taffy
Over 24 flavors including peanut butter, chocolate, vanilla, rum, wintergreen, clove, key lime, sassafras and even Moonshine!
Rich, Creamy Fudge
Vanilla, chocolate, peanut butter, white chocolate, turtle, caramel, etc.
Almond and Pecan Barks
Hand-Dipped Cordial Cherries
Choice of white, dark, and milk chocolate
Chocolate Covered Nuts
Chocolate Covered Fruit
Truffles, Creams
and Sugarfree candy too!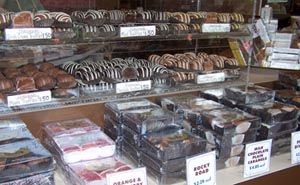 In addition to homemade candy, you can also shop for private label jellies, local sourwood and wildflower honey, souvenir toys and candy tins, and some manufacturer's candy favorites.
Pick up a box or two of chocolate treats and head back to your own suite at Mountain House Motor Inn.  Course, we are only a couple minutes walk away so you can head over to Ole Smoky Candy Kitchen most any time your sweet tooth demands between 8 a.m. – 11 p.m.
Ole Smoky Candy Kitchen
632 Parkway at The Village Shops
(865) 436-4617
www.olesmokycandykitchen.com