Bath and Body Products for Women and Men
After you check in at Mountain House and get yourself settled, we suggest that your first order of business is heading over to Verbena's Boutique at The Village Shops.  Following a long day of playing and dining in Gatlinburg, you'll be glad you did!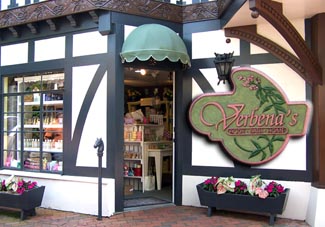 Verbena's is right next door to Celtic Heritage and the scent coming from the front door will certainly draw you in.  The shop specializes in personalized body products: you choose your favorite scents for a custom combination unique to you.  The knowledgeable staff will then use your scent to formulate shampoo, perfume spray or lotion.
If you prefer to purchase indulgent brands of handmade, vegan, novelty or organic soaps and lotions, you've gone to the right place.  Verbena's proudly sells locally made, made in the USA and European products that will pamper your skin and treat your nose with emollient oils and beautiful scents.
Product offerings include boutique fragrances; milled and novelty soaps; bath fizzes and salts; men's skin care including aftershaves and soaps; highly scented candles; and natural cleaning products.  A few product lines include:
Poo~Pourri®:  The popular blend of essential oils to virtually eliminate bathroom odors is available in a variety of fragrances and sizes.  A couple of squirts into the toilet bowl before-you-go prevent bathroom odors from showing up in the first place!
Pacifica®:  A wonderful line of cruelty free, vegan makeup inspired from around the world but manufactured in the USA.  Pacifica uses recycled materials for packaging and supports the local economy.
Zumbar Soaps®:  Made with food grade olive, coconut, palm & castor oils, in a goat's milk base with herbs, pure essential oils, fragrance oil, and mineral pigments.
Shelly Kyle Products:  Beautiful containers and boxed packaging just add to the luxury of shimmering powders, body butters, creams and sugar scrubs with names such as Ballerine and Tiramani.
All of these items and more are available in this quaint, family-owned boutique just 2 minutes from Mountain House.  For a little extra incentive, here's what one shopper had to say:
This store was a little gem! Didn't expect to find it, let alone go in, but for a soap lover like myself it was great. The lady behind the counter talked with me about exfoliants and gave good insight on the products, and was extremely nice and helpful.  Loved it.  M.J.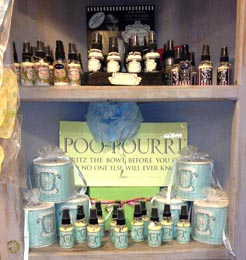 Imagine for a moment…  You've toured Ripley's Aquarium and been up and down the Space Needle.  You've played two rounds of mini-golf at Fort Fun, and ate The Whole 5 lb. Chihuahua after riding the bucking donkey at Loco Burro.  You've had your souvenir photo made at Old Tyme Photography and picked up a t-shirt or two for your friends back home.
Now what could be better than returning to your hotel room and treating yourself to a nice warm, beautifully scented bath surrounded by a soft, candlelight glow?  Not a whole lot.
Go ahead, THANK yourself!
Verbena's Bath and Body Boutique
Click for 2016 Verbena's Coupons
The Village Shops #25, Downtown Gatlinburg
(888) 330-9580
Shop Online at www.Verbenas.com