The Sock Shop at The Village
Could one really look forward to shopping for socks while on vacation at Mountain House Inn?  We were a bit skeptical ourselves.  That was until we went into the Village and were totally surprised that The Sock Shop was so flippin cool!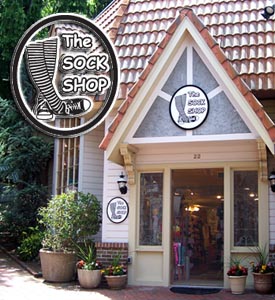 Who could have known that socks were so exciting?  Well… maybe you, and the thousands of other folks that visit this little shop each year to "ooh and ahh" over the gobs of amazing socks!  And it ain't just socks.  There are leg warmers, pantyhose and stockings, knee-highs, slippers and footies galore.
Every wall is covered with socks from high to low, there are tables of socks, there are displays of socks and racks of socks.  You're going to need about an hour just to look at all the socks.  If you plan on feeling them or reading a materials label, you better have a snack handy because you'll be here awhile.  It's pure fashion for the feet of babies, kids and adults in every size and color imaginable.  There are toe socks, sandal socks, boot socks and shoe socks in every natural fiber you can think of including cotton, merino wool, cashmere and silk.  The Sock Shop also carries quality synthetics that offer unbeatable wear and wicking.
Socks are fun and often the finishing touch to the perfect outfit—but on a serious note—let's face it:  socks help keep feet healthy by reducing moisture that bacteria need to grow and cushioning those 26 bones, 33 joints and 38 muscles that work together to carry your body up and down the Gatlinburg strip.  Socks are important!
How to Buy Socks:
Feel the softness and cushioning surrounding the heel, bottom and toes of the socks where the cushioning is usually built in. You should see or feel cushioning, knitted-loops.
The ankle section and top of the foot should be sturdily built to hold the sock up and to help ventilate the foot.
The mid-foot section may be knitted with some elastic fabric to compress the sock around your foot and prevent the sock from sliding around.
The toe closure should be SMOOTH.  (Turn the sock inside out for a thorough check!)
The arch, toe area and heel should fit close to the skin.  They shouldn't be so snug that you have to stretch them on, but not so loose that they hang over any part of the foot.
Sock Care:
Wash socks according to manufacturers temperature instructions.
Wash inside-out to eliminate perspiration-causing bacteria.
Hang dry your socks to maintain shape and comfort, and extend useful life.  (Dryers can damage the stretch material in socks.)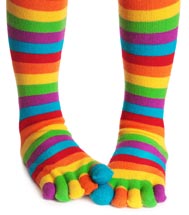 Now that you know how to buy your socks and care for them once you return home, how will you decide which to buy?  To ease the decision-making process, The Sock Shop has a "Buy 10, Get 1 Free" punch card available for the asking.  You can go hog wild on dress socks, hosiery, and socks for gag gifts, crafts and collections.  In addition to all the cute, comfortable and crazy socks, you'll also find some great sock accessories including shoes, hats, scarves and jewelry.
We hope you'll walk (or run) on over to The Village Shops after you check into Mountain House, and pamper those feet with a great pair of socks worthy of writing home about!
The Sock Shop
The Village Shops #22, Downtown Gatlinburg
(865) 325-6000
www.SockShopTN.com
Need additional Sock Knowledge?  Visit http://www.link2sox.com/you-should-know.html